image-slider-with-thumbnail2.jpeg
20 Years of Experience Installing
INDOOR SOCCER FIELDS

soccer field installation
image-slider-with-thumbnail3.jpeg
ENJOY YOUR OWN SOCCER FIELD
at home.
image-slider-with-thumbnail1.jpeg
Get the Lawn or Field of you want with Low Maintenance Turf.
Sporturf International is committed to providing you an amazing experience, regardless of whether you are a home owner or facility owner. From the beginning, we have been creating beautiful lawns and building sport fields for all residential, commercial, and athletic categories.
Whatever your vision, we have the ability to take it from concept to reality. Sporturf International designs and manufactures a complete range of industry-leading synthetic turf solutions. Our broad knowledge of design and extensive experience ensures that your project will be a success, and our commitment to exceptional service guarantees a great experience from start to finish.
Call us for more information:
(619) 259-2527.
Mission & Values
About Us & What We Strive For
Whether you are considering a year round lush green landscape project or a professional sports field, Sporturf International's design consultants are available to help you every step of the way. Our team will walk you step by step through the process of building your landscape or sport field so that the process is perfect for the needs of your players or for your own personal enjoyment. This includes educating you on each component of the system, describing all of the choices that are available and then helping you determine what is best for you. We will be with you from manufacturing through installation as your main or single point of contact.
Because we manufacture all of the lawns and sport fields that we design and sell, you can be sure that the best value for your project will be with us. No one can design, build and sell a better landscaping project or sport field better than Sporturf International.
Mission & Values
Sports Fields 
Sports are consistently developing, evolving, and changing. With over 20 years' worth of turf fields manufactured and installed, we know how to make the right product for you.  Let Sporturf International show you what we can do.
At our company, we pride ourselves on being Experts in the Installation of High-Quality Synthetic Turf Sports Fields for all types of sports in Southern California.
Whether you need a soccer field, football field, or baseball field, we have the experience and expertise to provide you with a top-of-the-line playing surface that will meet your needs and exceed your expectations. Our team of skilled professionals uses the latest techniques and equipment to ensure that every aspect of your field installation is done to the highest standards. So if you're looking for a reliable and experienced company to install your synthetic turf sports field, look no further than us. 
 Our experts will help you select the right turf for your field, depending on length, size, and performance level. Every synthetic turf is designed with your needs in mind, from the sub-grade, to the base, pad and turf.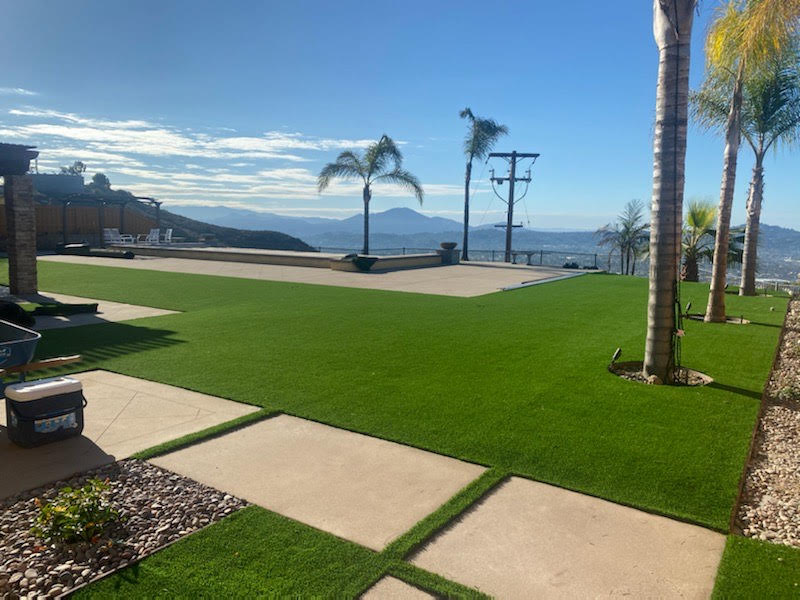 sporturf international
Synthetic Turf for Sporting Fields, Residential and Commercial Projects.
Sporturf International offers you the best quality when it comes to synthetic turf. Whether it is for a landscape area, multi-use fields or even professional ones, we have a broad range of 100% USA-made synthetic turf products for you to choose what will best suit your field.
Personalize it by choosing different colors and the logo that best defines your project.
We have dedicated ourselves to developing the best synthetic turf, always improving our quality by using the best technologies, continually putting safety and efficiency first, which has also helped create the most natural-looking, versatile, reliable synthetic turf in the world.
Emmanuel Ley
November 28, 2022.
Sergio has done work for one of my clients. The pavers came out amazing!
Javier Garcia
November 16, 2022.
Sergio is amazing great customer service very professional and has lots of options really recommended!!
Shreya Chandra
September 25, 2021.
Sergio and his team were phenomenal. They were fast, professional, and thorough. Sergio came for a final inspection and is very meticulous with his work: I would recommend this team highly for any turf project.
Greg Caginia
September 14, 2021.
I just recently had Sergio install some artificial turf in my front yard. Even prior to the installation Sergio was very professional, knowledgeable, and even showed up in person (more than once) to ensure I was comfortable and addressed all my questions. Likewise, he is very friendly, his prices were very competitive, and he would follow up throughout the entire process to ensure completion. More importantly, his employees who did the installation (Jose and Marcos) are top notch. They are extremely good workers, knowledgeable, thorough, and take pride in their work. Overall, I would highly recommend them in any project moving forward.
Bill Hyde
September 25, 2020.
Sergio and his team just finished installing a new front yard for us and our neighbors have been coming by all day to compliment us and get Sergio's phone number. We are really thankful we chose to work with him. His bid was very reasonable and he offered several helpful suggestions that really improved the final work. All of the team were courteous, helpful and knew what they were doing. Sergio came by several times to Check that things were on schedule and that we were satisfied with their work. I highly recommend this company - they are the best landscapers were have worked with and we are totally satisfied with our new front lawn.
Mark Sukenik
August 2, 2020.
Outstanding Customer Experience I was inspired to write this review because of my outstanding customer experience with SportTurf-Dream Gardens. Every step of the process was a positive experience; Sergio came to the house on three separate occasions to help finalize grass selection and project scope. He fostered an informative, flexible, and low-pressure sales process. The install team was excellent. Their expertise and attention to detail achieved exceptional results. Sportturf-Dream Gardens delivered tremendous value, final product and an outstanding customer experience. Don't hesitate to partner with this exceptional company and team.
Sergio was very kind and did an excellent job. My front yard looks amazing thanks to him. He had a very professional manner and did my yard carefully with great attention to detail. I will be going back to sport turf due to Sergio's great service. -Vy
Sonya Kuo
April 19, 2020.
We are so happy with Sergio's team at Dream Gardens and how they have helped to transform our front yard. Sergio and his team helped us install turf in our backyard about 5 years ago and we love it so much. It is low maintenance, has a clean look, and great since we have a golden retriever who likes to run around outside. This way he doesn't get muddy and it's so clean in the backyard. Our dog does his business on pebbles on the side, not on the turf. Our front yard has been an eyesore for a while and after thinking about it for awhile, we decided to invite Sergio and his team back. Our front yard was overrun with weeds and the lawn kept dying. We decided to install turf and have a border of rocks and plant some flowering bushes. Sergio and his team efficiently demolished the existing lawn and took away the weeds. They hauled everything away and also brought in the materials needed to install the dream garden we were envisioning. In less than a week, our front yard was transformed into a low maintenance and beautiful landscape. They checked our sprinkler drip system, they helped us trim existing hedges, and power washed the arizona river rocks that we got. We are extremely happy with the end result and will definitely recommend Sergio and the Dream Gardens Team to our friends!
John Moore
February 20, 2020.
I design and install premium landscape lights and I've worked with the Sporturf / Dream Gardens team several times. They have fantastic attention to detail and install the turf and hardscape products correctly - something I can appreciate as we go underneath gardens, lawns and drives to get our systems installed. Go with Sporturf - you can't go wrong!
Get Started
Get an estimate today!
OFfice
1891 Camino Mojave, Chula Vista, CA. 91914.